Digital Signage Today has chosen CAYIN® Technology as a top digital signage software provider for 2022.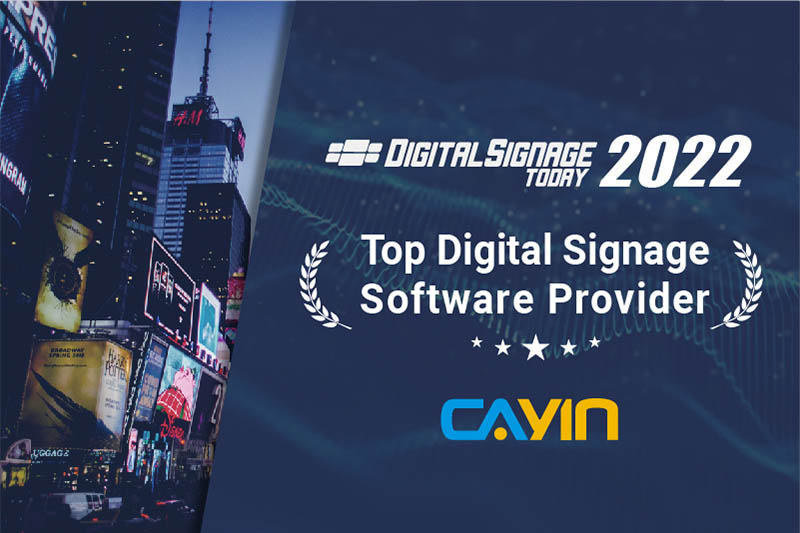 The digital age has thoroughly transformed the way businesses and consumers communicate.
Following the increased accessibility and overflow of online media, information, resources, and competition, companies are looking to a new medium- digital signage, as an effective way to deploy messages to the target clientele.
Choosing
the right digital signage solution
becomes a crucial decision for modern-day businesses.
However, what is considered right when business requirements and expectations constantly evolve?
CAYIN Technology believes the answer is digital signage software that can multitask different functions and keep up with the digital revolution.
CAYIN® Technology is honored to be recognized as a
Top Digital Signage Provider for 2022
by Digital Signage Today. With 17 years of experience developing digital signage solutions, clients in more than 90 countries, and partnerships with more than 1,000 brands and institutions, CAYIN is confident in providing all-in-one digital signage solutions that fulfill any business needs.
CAYIN's comprehensive portfolio includes diversified media players, content management servers, and advanced management software for monitoring and generating reports. This wide range of selection provides businesses with a customizable, cost-efficient, and robust solution. In the fast-paced world of precision marketing, CAYIN Technology has dedicated itself to continuous innovation and change to bring the newest technology to realize its clients' visions and goals.
For business inquiries please email:
sales@cayintech.com
or visit
CAYIN Technology
for more information.