CAYIN Technology, a leading digital signage solution provider, announced the launch of the SMP-8100 digital signage player, the latest addition to its Robustie Solution family.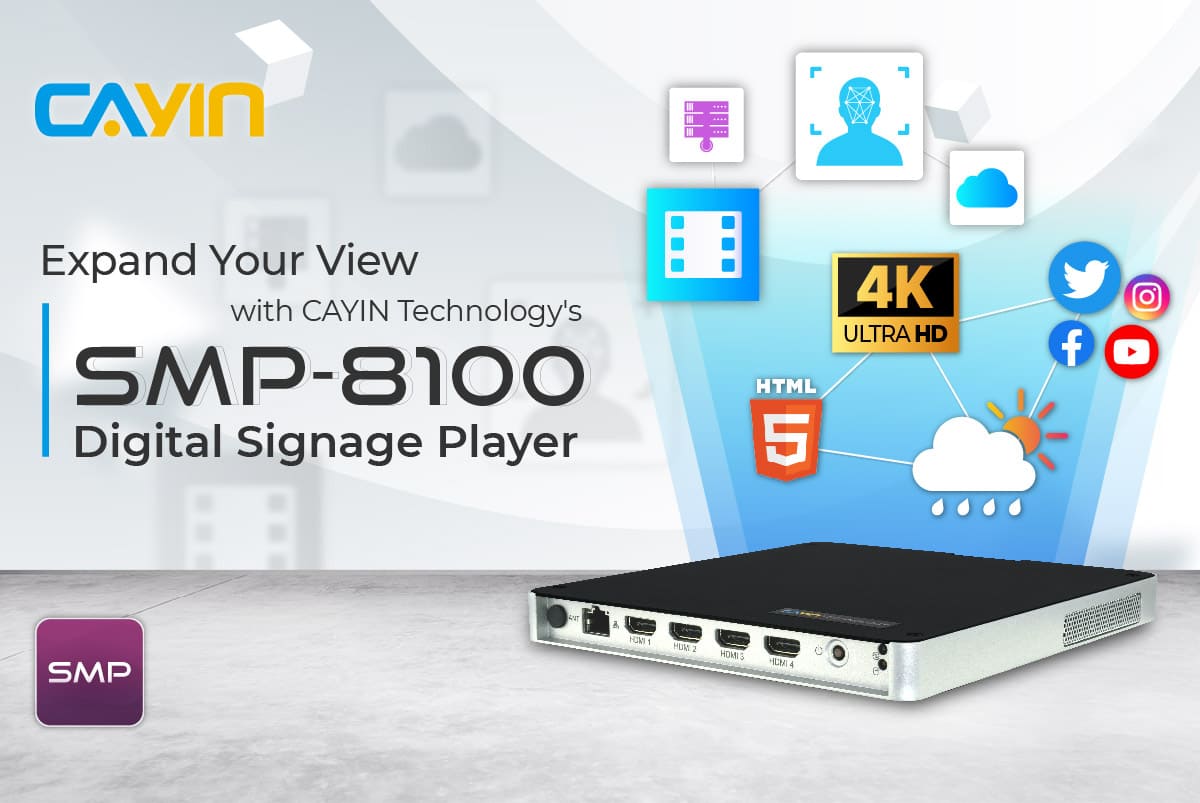 CAYIN Technology, a premier provider of digital signage solutions, has announced the release of its latest offering: the SMP-8100 digital signage player. A member of the Robustie Solution family, this player is equipped with four HDMI outputs, making it an excellent choice for three or four-screen video wall applications. Boasting advanced features and capabilities, the SMP-8100 sets a new standard for digital signage players in the market.
The SMP-8100 offers three playback modes, enabling users to display content in blocks, as a single program, or as a playlist. It is compatible with a wide range of content formats, including 4K UHD videos, HTML5 webpages, weather information, and social media feeds. With no limitations on the number of video blocks, image blocks, and ticker tape blocks, the SMP-8100 offers unparalleled flexibility.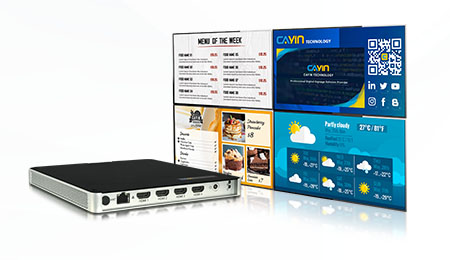 4 HDMI outputs, tailored for 3 or 4-display video wall applications
In addition, the SMP-8100 supports four signal output modes, including
single, clone, extended, and split modes
. Its scheduling function is highly flexible, allowing users to edit and manage their content on a daily, weekly, monthly, or yearly basis. Users can also design their own templates directly from the SMP player or their computer, with access to a rich resource library and cloud-based resources.
The SMP-8100 comes integrated with facial recognition technology, enabling personalized content delivery when used in conjunction with QNAP QVR Face Tiger. The player also supports multi-touch operation and its fast remote diagnostic and preliminary repair capabilities ensure a smooth user experience.
Compared to its predecessor, the SMP-8000, the SMP-8100 boasts significant hardware upgrades in its CPU, memory, storage, audio, and video output capabilities. It delivers superior performance, with support for up to four FHD (1080p) 10M 20fps videos or one 4K (UHD) 50M 30fps/15M 60fps video. While single and clone modes support 4K@60Hz UHD. We recommend H.264 format for optimal playback performance. The player also supports multiple audio encoding formats and can read various image file formats.
CAYIN Technology is thrilled to launch the SMP-8100, which represents a significant leap forward in the digital signage player market. With its advanced features and capabilities, the SMP-8100 offers unparalleled flexibility and performance, making it the ideal solution for a wide range of video wall applications.
The SMP-8100 is now available.
For more information on the SMP-8100 and its features, please visit
the CAYIN Technology SMP-8100 website