Imagine all your digital signage and marketing needs to be condensed into the simplicity of a single server.
That's CMS-WS in a snapshot.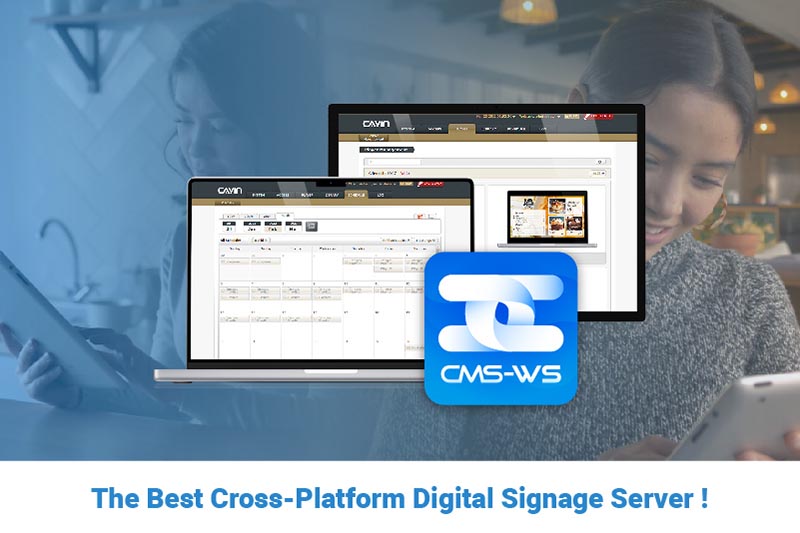 This cross-platform digital signage solution gives users maximum flexibility in choosing media players and the power to instantly transform their devices into digital signages and strategically deploy customer touchpoints. With just a server, display connection licenses, and personal devices, users can own a total digital signage solution that matches any demands and budgets.

One for All, All in One
The all-in-one Digital Signage Management System allows users to connect and manage up to 1000 devices directly through a web browser. Users can choose from a wide selection of devices, including Smart TV, Android Playback Systems, Mobile devices, Tablets, PC, Laptop with CMS-WS players, CAYIN media players, and other media players.
Small Budget with Big results
Compared to using other cloud-based CMS software, users can reap maximized benefits with a significantly smaller budget. CMS-WS offers a yearly-subscription service that cuts out long-term commitment and provides extra flexibility by letting users choose their own devices for the best value and cost. It is the ideal cost-efficient solution for retail users and small and medium-sized businesses because companies can spend less while generating bigger marketing results.
Start Marketing in Seconds
Businesses can now reach their target audience and market their brand and products at an instant with CMS-WS. Pre-made templates are available for download and can be adjusted to fit a company's brand image or style. The rich library and cloud resources included in the solution allow users to customize templates with various multimedia files, fonts, clocks, skins, programs, and playlists to complete their creative vision. Once a template is created, users can simply choose a device to display it on and start marketing! CMS-WS can also convert and stream a variety of media types, such as video, YouTube video, image, HTML5 web page, text ticker, news, weather, social media, etc.
Intuitive User Interface
CMS-WS's intuitive user interface makes managing multimedia content easy. The remote management function gives users instant access to manage, upload, and schedule display devices anywhere, anytime using a web browser.
Versatile Playback Function
The Versatile Playback Function offers three playback options. The Playlist function automatically plays the user's chosen content in sequence. The Schedule function arranges a one-time event or daily, weekly, monthly, and yearly tasks for all CAYIN players and web-enabled devices. This function has two viewing modes, calendar and timetable, which help users facilitate schedule management. Lastly, the Emergency function is designed for times of urgency. Users can activate the alert mechanism and broadcast emergency messages in texts, images, videos, HTML...etc. The cross-platform server will allow targeted audiences to access urgent news on their personal devices.
Safe and Secure Data Storage
CMS-WS protects a company's data from security risks and leaks by storing them in the server rather than the cloud. Compared to other cloud-based services, users have complete control over their data and can choose their preferred network. For convenience, companies can choose to use the internet browser, or for security purposes, the company can select the LAN/WAN intranet, which provides a private connection for important data.
Fulfill your 21st-century marketing needs and create a competitive edge for your business with the all-encompassing CMS-WS Digital Signage Solution.
For more inquiries, please contact
sales@cayintech.com
or see
https://www.cayintech.com/digital-signage-products/server/cms-ws.html
for additional information.